Fear, As Motivator: The Arizona Diamondbacks, who would be a great team to call your home team if that didn't mean you had to live in Arizona, are building their holiday ticket sales strategy around the idea that manager Kirk Gibson is terrifying.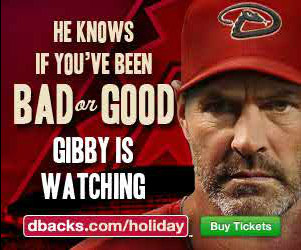 I'm really hoping that there's a video/commercial campaign to go with this, because that means there's a chance they can draw inspiration from the Ozzie Plan. And by inspiration, I mean a steely eyed Gibson shows up at people's holiday gatherings and places of work to wordlessly encourages them to buy Diamondbacks tickets.
And hey, if nothing else, people can drink the water out of the snow globe when things get really bad.
— Julie and I had a nice lunch down by the water on Sunday morning at Fathoms, which I would push as one of the East Coast's top dining destinations that shares its building with a fishing store and its parking lot with a strip club. (Bonus Points: This happened at the strip club that was there before the current strip club.)
It was quiet, we got a table right by the window and got to look out at the fishing boats while the early football games went on. There's a tall ship on the Fairhaven side of the water at the moment, likely in for repairs, so that was nice. It was another one of those days that I have down here where I find myself thinking what a bad rap New Bedford gets.
Is it the best place a person can live in the Commonwealth? Of course not. But it's far from the worst. The scenery's great. The food's great. The people, by and large, are great. The downtown, relative to how things were when I got here nine years ago, is light years better. I'm proud to call it home.
This fresh in my mind, I went to work, only to have one of my co-workers come over and inform me, "Hey, one of my buddies got killed in New Bedford last night."
"A 32-year-old man was shot to death before dawn Sunday outside his two-decker on Locust Street. … Monteiro's body was found lying on the pavement at the end of his driveway at 120 Locust St. in the city's West End after multiple gunshots were detected around 5 a.m."
They'd grown apart since high school, but he knows people who were still close to the guy. Got some hysterical phone calls, etc.
Oh, my flawed city.