By my count, I wrote 50 pieces for the print Standard-Times this year. (A man's entitled to two vacations, apparently.) You can view them all here, but here's a quick-and-dirty list — interspersed with some GIFs, because why not — of my favorites before the calendar flips.
'Pedro' is the pitcher telling his story, so the picture will – of course – not paint all completely. Joe Kerrigan's treatment is best summarized in a photo caption: "My pitching coach … always had lots of theories about how I could be better. Here I am not listening to one of them."

Martinez's brilliance of mind and mound is on full display – we begin and end at the mango tree he so wonderfully spoke of in the heat of the 2004 ALCS. Yet so are his great contradictions: The willingness to hit people and his bristling at the reputation it brought. His deep trust in some, and deep grudges toward others.

Brady is similarly stellar, and a similar shade of gray to us on the outside.

The Red Sox averaged 93 wins a season from 2002-11, always more than the sum of their parts. Superstars carried the load, sure, but Mark Bellhorn and Bill Mueller answered the call when needed in October 2004. J.D. Drew's 2007 grand slam? Same thing. Heck, Daisuke Matsuzaka knocked in a couple runs in Colorado.

I'm sure I'm not the only one still guilty of thinking of the franchise that way. Seeing David Ortiz and John Farrell and Dustin Pedroia, the lines connecting '04 to '07 to '13 to now. It is, however, increasingly appearing a mirage. In the ninth inning of a close game, whether you walk or pitch to the opposing slugger with a base open leads to the some conclusion. At some point, someone's got to make the play.

Junichi Tazawa didn't in Seattle two weeks ago. Koji Uehara didn't last weekend in Texas. The Red Sox haven't for going on four full years, title be damned.

And thus, we wait to see how baseball will react. The same sport that just this year rolled out metal detectors at every park. Detectors that, studies say, don't really make anyone all that safer.

In the year the impending removal of Houston's "Tal's Hill" incline in center field brought relieved cries of "that thing was an injury risk." An injury risk that, for all its 16 years, has caused no major injuries.

Rob Manfred can't eliminate the risk to spectators. It's an inherent as the risk to players by every thing they encounter. The commissioner has, though, been given an opportunity to mitigate it. To be proactive, instead of reactive in the face of as awful a story as a sport can bear. Here's hoping he takes it.

Am I quibbling, basically, about a word? I've been guilty of that before, and will be again. Finding something bad in what's admittedly warm feelings? Sure, that's one way of viewing this.

I'm just tired of the simplistic and cliché being treated as profound. Those who need to be reminded of perspective at a time like this won't maintain that perspective long enough for it to matter.

It's wasted words, wasted breath, no matter how many Facebook likes it nets. An exercise in self-satisfaction. As it was last time, as it will be the next time.

The way everything changed when the Bruins signed 14-year-old Bobby Orr for a car, a suit, some cash and some stucco on the family house. The way everything changed when the Celtics finally signed Larry Bird after spending the No. 6 pick on him 10 months earlier. The way, and this is the perfect example, everything changed when Tom Brady was written on that pick card for selection No. 199 in the 2000 NFL Draft.

It wasn't dumb luck. There was research. There was hope. There was an expectation of success.

No one could have expected four Super Bowls. Or 500 home runs.
At the risk of doing whatever the Internet equivalent is to Vaguebooking, this has not been a good year on a personal level. I may elucidate that in the future, but for the moment, let's just leave it at some outside-the-work issues bleeding in and really dragging me down. I was not at Fenway much. I was not terribly useful when I was there. I stunk even worse than the team stunk.
The Chad Finn shoutout on Boston.com was a really nice pick-me-up. No use denying that. I've never entirely had a handle on what kind of audience I actually have, but it's always nice to realize that even now, you still exist.
Whomever you are and however many of you there are, thanks for reading and sticking around. You make me this happy.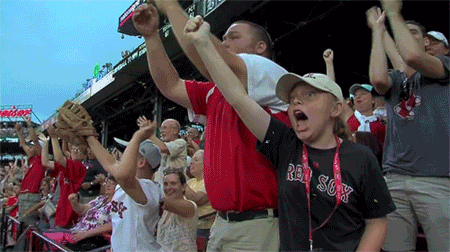 See you next year.